Welcome to PULP!
That fact that you are reading this must mean you are interested in joining us, which is good! (i hope

)
With PULP we strive to be careful with letting in new members, we are a fun clan so it's important we like you but it's also important that you are an active, mature and skilled player. The minimum requirements to apply for membership are:
Requirements before applying:
You are 16 years of age or older


Your Kill-Death ratio needs to be at least 0.8 or higher (except when medic is your dominating class). Check the rankings to find out your KD ratio.

AFTER you have applied you need to accomplish at least 24 hours of playtime on our servers.

You are under 16 years of age


Your Kill-Death ratio needs to be at least 0.8 or higher (except when medic is your dominating class). Check the rankings to find out your KD ratio.

You can only apply if you have already played 24 hours on our servers! If not your application will be refused.

You need at least ANOTHER 24 hours of playtime on our servers during your trial period after you have applied.

We will not accept more then 2 applicants per month who are younger then 16

Any accepted applicant <16 will be considered a probationary member until their 16th birthday. This means if they show themselves to be immature their membership may be revoked. In all other considerations they will be treated like a regular member.

So to apply it goes like this:

[1]Make a forum account! After registering you will get an e-mail about activating your account before you can use it. Please add an avatar to your forum profile and don't forget your birth date.

[2]Write your application in this forum. Tell us a bit about yourself, what is your age, which country/region are you from, specific passions? We would like to know what your experience level is, how long have you been playing TF2? What are your favorite classes? Have you been in other clans? What will be your addition to our clan? Do you want to play competitive in pugs and scrims?

[3]Now you can put pf. in front of your steamname. Make sure you use these lowercase and no space between the . and your name. This tag means you are applying so other members can see this and get to know you.

[4]After this other members can respond to your application, ask questions and get to know you. If you are new to the server please give other members some time to play with you and get to know you. We have a minimum period of 1 month that we use to get to know new players and 2 months minimum for players younger then 16. Of course is speaks for itself that you have to play a fair amount of time during your first month to make sure most members have gotten the time to get to know you, that's why we have the playtime requirements.

[5]Please request membership of the 'Applicants' group in the forum which can be found here. An admin will accept your request. This puts you in a pending list for new members so it's easy for the admins to get an overview of new members. After your request has been accepted you will get access to the Introductions forum which is only visible for clan members and applicants. Write some stuff there about yourself so we can get to know you.

[6]If you are not able to accomplish at least a KD ratio of 0.8 we will have to refuse your application. If you get a a ratio between 0.8 and 1.0 we will have to do some duels with you. During the trialmonth one of the level2 or 3 admins will do some 1vs1 dualfights with you on our VIP server. Your skills will be tested and judged. The admin will report his findings in your forum application topic.

[7]After the trialmonth the voting can begin (not sooner!), provided you have accomplished the playtime and KD ratio requirements. You will need three admin YAY votes and three member YAY votes. So six in total. Once voting has started you have 5 days to get the needed votes or you will be refused. The voting period will ALWAYS take 5 days, no more, no less. This is to give possible NAY voters the chance to do so. To find out who are admins go check the memberpage. Watch out, you will be refused if: one level3 admin votes NAY, two level2 admins vote NAY, three members or level1 admins combined vote NAY.

[8]After you've got the six votes you change your pf. tag to pF. with uppercase F.

After you become a member please stay active in the forums. If we notice you haven't visited the forum in one month you will get a reminder and if you don't respond in a week we will have to kick you as a member.

TIP: If you are interested in following a certain forum topic just click 'Start watching this topic' at the bottom. Each time someone replies you will get an e-mail!
You can find the stamps to vote for someone in the drop-down menu of the smilie section: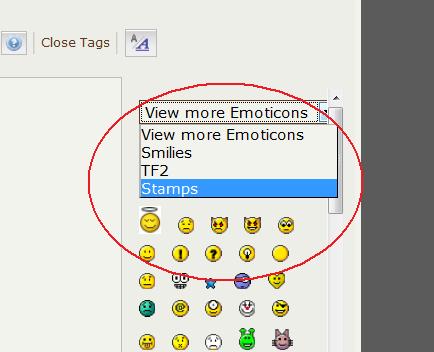 Last edited by Eraserhead on 19/8/2010, 13:16; edited 1 time in total
_________________
Greetz,
Eraserhead
Young Greezy wrote:I'll murder your face in half
Senior Game Admin





Posts

: 3170


Join date

: 2009-11-14


Age

: 43


Location

: Suriname



We've changed the mandatory voting period to 5 days.
Senior Game Admin





Posts

: 955


Join date

: 2010-01-04


Age

: 37


Location

: Florida





Similar topics
---
Permissions in this forum:
You
cannot
reply to topics in this forum